Load File Setup
To load the entire sample setup from another run file, including the standard list and MAN assignments, click the Load File Setup button. With this dialog, it is possible to load an entire sample setup from another run for immediate use or modification.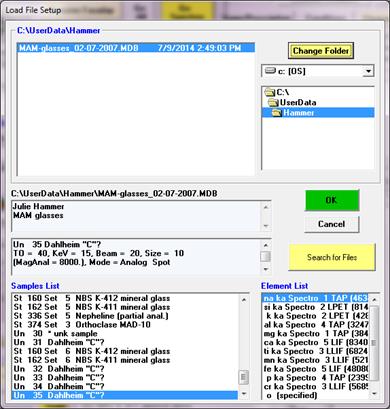 Note that you will not be able to take advantage of new acquisition features in the software if you continue to append data to an old format probe database. Therefore you should generally create a new file for each probe run and if necessary use the Load File Setup button to load the setup from the previous database file. This way you get access to all the new features and also prevent the database from getting too large and unwieldy.
Because this dialog provides a listing of the sample setup from each filename clicked, it is an easy matter to browse through all available runs to find a suitable sample setup to load.
Note that loading a file setup will overwrite all current run parameters for the Run, Sample and Element database tables. Only the Nominal Beam and Time Dependent Intensity (TDI) Element correction sample assignments are ignored from the file setup.
After, the file setup (based on the last unknown from the specified file) has been loaded, the program will ask whether to also load the standard intensities. Select Yes, to load the standard intensity data beginning with the last standard and going backwards to the beginning. The standard intensity data timestamp will retain be the original acquisition time. Note that if a standard intensity has already been loaded, the program will not load that particular standard intensity.