Semantics
When reached as the target of a transition, deep history restores the full state configuration that was active just before the enclosing composite state was last exited.
Procedure for creating deep history
In order to create DeepState,
1.

Click

[Toolbox] -> [Statechart] -> [DeepState]

button.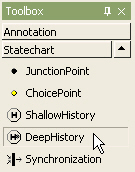 2.

And click at the position where DeepState will be placed in the

[main window]

.