| | |
| --- | --- |
| | OpenNI 1.5.4 |
xn::Device Class Reference
#include <XnCppWrapper.h>
Inheritance diagram for xn::Device: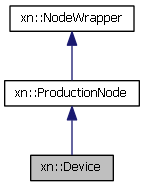 [legend]
---
Detailed Description
Purpose: A smart pointer to a device node in the production graph of a context.
The device node represents a physical hardware device currently connected in the system and used for generating data. The Device node represents the hardware device by providing, for example, the device's model name, serial number, and some vendor-specific data. The Device node itself does not generate data.
Capabilities: DeviceIdentificationCapability
---
Constructor & Destructor Documentation
| | | | | | |
| --- | --- | --- | --- | --- | --- |
| xn::Device::Device | ( | const NodeWrapper &  | other | ) | [inline] |
---
Member Function Documentation
---
The documentation for this class was generated from the following file:

1.7.5.1