| | | |
| --- | --- | --- |
| Diagram Designer | Options | |
| |   | |
Click on an item for more information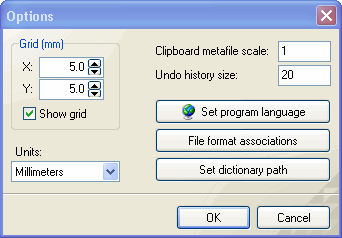 sets the grid spacing (X and Y) using the current units, as set below
toggles grid visibility on/off (Show grid)

Note that even when grid is toggled off (ie. clear the Show grid tick), the grid snap mechanism is still in effect.  To effectively turn the grid snap off, set the grid spacing (X and Y) to 0.0.  Setting a small grid spacing may cause the grid to not appear unless the zoom factor is increased.

Diagram Designer's snap feature causes object link points and bounding box link resize points to automatically align to a grid point, when that point is close to the link point or resize point.  This makes alignment and sizing of objects easier most of the time.  Holding down the <Alt> key disables the snap feature so that an object can be resized or moved without interference from the snap feature.
 

set units as

Millimeters
Centimeters
Inches
points (1 pt. = 1/72 inches)
300 DPI dots
600 DPI dots

Once units are set all page and object properties are presented in those units, except for line widths and margins (presented in pts. or 1/4 pts.).
| | |
| --- | --- |
|   | When objects are copied to the clipboard (as a Windows® metafile), this value (default = 1) controls how large the objects are when pasted into another application as a metafile image.  Setting this value to 2, for example, pastes the metafile as twice normal size into a document (eg. using Wordpad). |
| | |
| --- | --- |
|   | This value controls how many operations (eg. move, edit properties) will be remembered and are available for undo.  Setting this value lower than default (20) frees up memory used by the undo mechanism, but might make editing and diagram creation more difficult or less versatile. |
 

Diagram Designer is designed for English usage, but (with the installation of the Language pack), other languages can be installed.  The Language pack provides program translations for:

Czech
Danish
Dutch
English (built in)
Estonian
French
German
Italian
Polish
Portuguese
Spanish

Once a language has been selected, the program must be restarted in order for the new language to take effect.

If you are experiencing problems with display of local character sets in the software translations, this may be due to incorrect Windows character set setting.  In Windows XP you can check this by opening Regional and Language Options in Windows' Control Panel and going to the Advanced tab. Verify that the proper language is selected for non-Unicode programs:
 

During installation of Diagram Designer (using the installer package), this dialog is presented to allow Windows® file associations for:

.DDD files - Diagram Designer diagrams, and
.DDT files - Diagram Designer templates

If these associations are created (either at installation time, or by using this dialog later) double-clicking on one of the above files will open Diagram Designer and load the file accordingly.  Disabling one or both of the entries using the dialog will break the association between those files and Diagram Designer - they will not load on a double-click.  When enabling the associations, if the Description box is checked (checked is the default value), Windows® Explorer shows DDD and DDT files as "Diagram" and "Diagram template palette", respectively, rather than just "DDD file" or "DDT file".

Note that the uninstall process for Diagram Designer (assuming the install package was used) eliminates 2 of the 4 Windows® registry entries for file associations only.  For complete removal, the user should also remove the following entries:
    HKEY_CLASSES_ROOT\.ddd, and
    HKEY_CLASSES_ROOT\.ddt
following completion of the uninstall process.
| | |
| --- | --- |
|   | Diagram Designer's spell check feature cannot be enabled unless a dictionary is installed.  This item allows the user to specify the path to any installed dictionary files.  Although only the folder path is used, the user must select a valid dictionary file in that folder.  Links to dictionaries are available at http://meesoft.logicnet.dk/DiagramDesigner/. |