System Requirements
Your system should come with a pre-installed operating system or you may choose to upgrade your operating system to the latest. Below you will find a list of those that Nero LightScribe supports. Please check to make sure that you have one of the following operating systems:
Operating System
Windows 2000 (Win 2K)
Windows XP
User Rights
Administrator rights required on Windows 2000 and Windows XP
Hardware
Your system must have a LightScribe capable drive. If this is not installed Nero Express will hide the LightScribe feature.
Intel Pentium
Your PC must have a 500 MHz system or higher recommended. Please refer to the PC manuals that came with your system for system configuration information.
You must have at least 128 MB RAM memory. Generally, more would be better.
The hard disk access time should be less than 19 milliseconds
Graphics card with 8 MB or higher (for video).
We recommend that Nero Express will be most comfortable to work with in a screen resolution of 1024x768 or greater.
700 MB of free hard drive space for drive images recommended. Generally, more would be better.
Software
You must have Nero 6.6 or a later version installed.
You must also have the LightScribe API installed.
LightScribe Host Software Updates
If you see such an error message, as in the screenshot below, it means that your installed LightScribe Host Software requires an update.
Most of such problems can be resolved when updating the installed LightScribe Host Software on your computer system.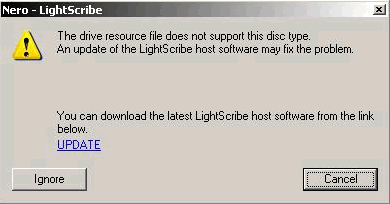 A typical cause of such an error message could be one of the following:
The installed LightScribe Host Software is corrupted and needs to be re-installed
The installed LightScribe Host Software has a version mismatch and needs to be repaired
You attempted to use non-certified or an incompatible LightScribe media.
In order to retrieve the update you must be sure to have a working Internet connection and your installed firewall, or any other Internet protection software, will not block the connection attempt.
To download the update, just click the "UPDATE" link. (see screenshot above)
You will be prompted to execute, save or cancel the operation. You must select the "Save" button and store the new LightScribe Host Software Updater to a local storage place on your HDD.
To install the new LightScribe Host Software version, be sure that your operating system user account has administration rights.
Then double click on the just downloaded file and follow the instructions of the Installation Wizard to update the LightScribe Host Software on your system
In most cases updating the LightScribe Host Software will resolve such problems instantly and you can continue in operating with your LightScribe hardware without even restarting the application or the computer system.
If the problem still exists, please contact your LightScribe device vendor for further support assistance or visit http://www.lightscribe.com to find out about licensed media and more.
---