Printing Label
When you are finished editing your label you can click the "Next" button at the bottom of the window to continue to printing your label.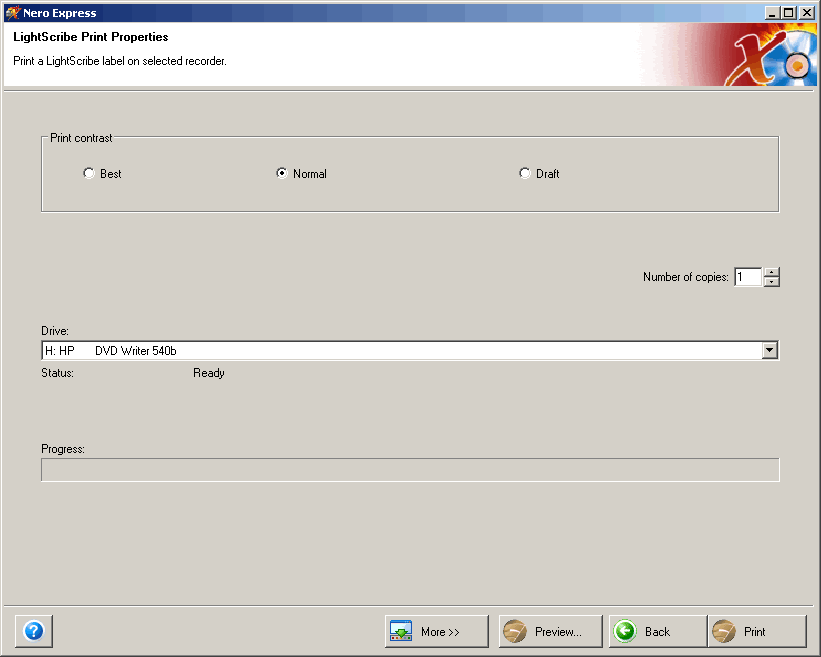 This will lead you to the LightScribe Print Properties window. Here you have the option to set the Print contrast. "Best" provides the slowest burning time but the highest contrast label which can be printed out on your disc and "Draft" provides the lowest contrast but the fastest burning time. "Normal" produces a moderate burning time with good quality. For more details on "Print Contrast settings see Section 'Editing Titles' of this manual.
Click the "Preview" button to see what your label will look like when it is printed. (see Section 'Print Preview')
Click the "Back" button if you wish to return to creating and editing your label template.
Click the "Print" button to being printing the label.
FYI! You might encounter situations where your LightScribe label application asks for either "Generic printing" which means the printing is not fully optimized for your media, or to update your LightScribe host software.
For optimal labeling experience, an application update is always recommended.
If you would like to update your LightScribe host software, just click on the update button and follow the instructions.
You will find an explanation about how the update works under Section 2.1, "LightScribe host software updates".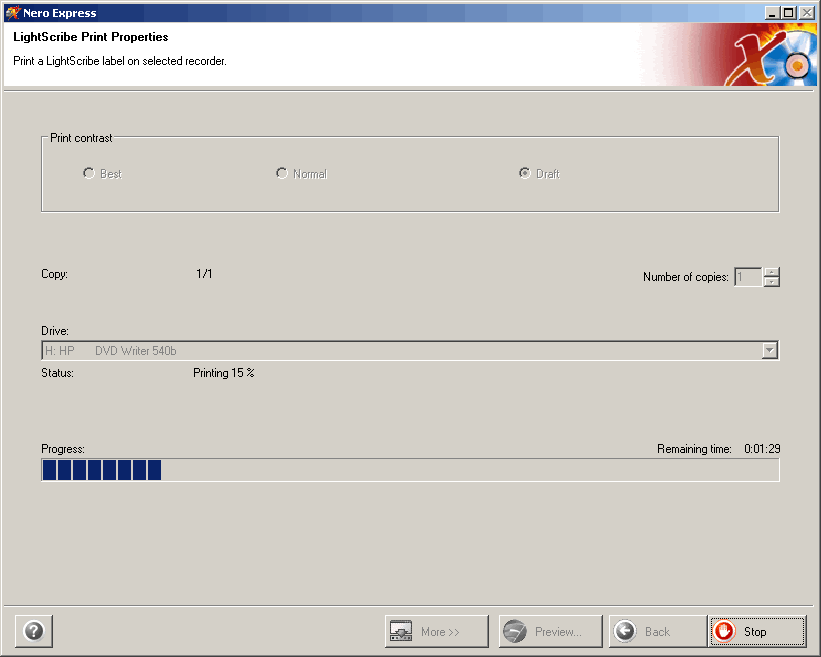 The printing process will then be activated.
When the printing process is completed a dialog will appear.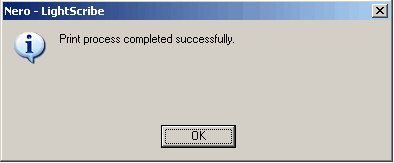 FYI!The label burn time varies with the amount of information contained on the label, the placement of the information on the label, the contrast level selected, the LightScribe disc used and the drive.

The LightScribe system burns the image in concentric, circular rings from the inside diameter to the outside diameter of the label surface. Rings that contain no image data are "skipped". A simple, circular title, such as a Title Mode Label, is accomplished most quickly because the information is limited to a circular rings close to the inside diameter.

The LightScribe disc itself and the drive compatibilities also influence the label burn time. In all cases, the writing system engine runs in the background and the user can go on to other tasks while the label is burning.
---