| | |
| --- | --- |
| File multiple emails (Batch filing) at a click of a button (PRO & Ultimate Version) | |
---
This feature allows you to bulk-file your emails into the respective folders. You can process all or selected emails from the current folder. Batch filing can also be used to file your sent emails from the Sent Items folder. These emails were either sent from your Outlook or from your mobile devices (synched via Exchange or IMAP protocol).
To access the Batch filing screen:
 - On QuickFile ribbon > Click 'More Actions' > Batch Filing
- The following screen will open: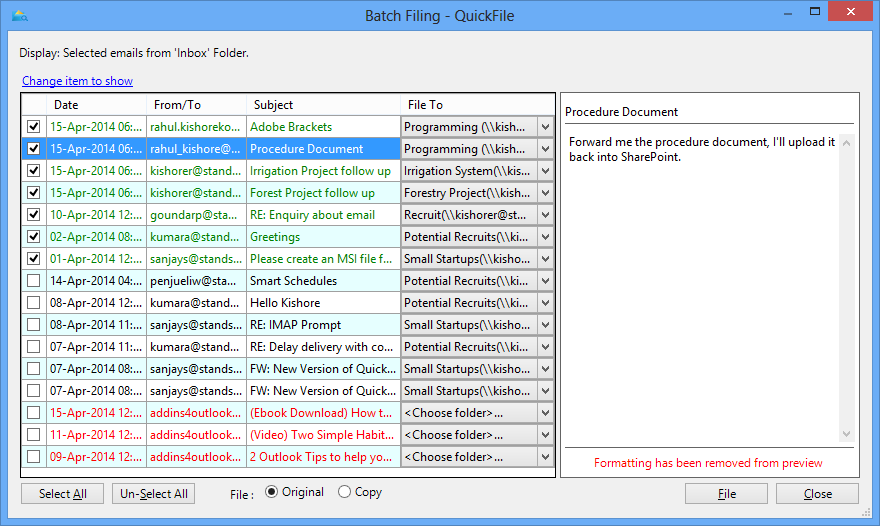 QuickFile suggests the filing folders for each of the emails loaded. You can choose/select a different 'File To' folder if you want. The color-coding on the emails represents:
Green:

A previous email in the same thread/conversation was filed in that folder
Black: Emails received/sent to that person/domain was filed to that folder

Red:

Emails received/sent to that person/domain was never filed using QuickFile
A default filter criteria is applied to load the un-filed items into the list as shown above. You can click on the 'Change item to show' link to apply/modify this criteria as shown below: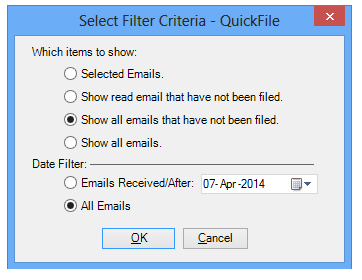 Change the filter criteria that you want and click OK. The email list will be re-loaded on the Batch Filing screen based on the new filter that you provide. Click on 'File' button to file all the ticked emails.
---
Didn't find what you were looking for or having suggestions?
We want to know. Please contact us to help us serve you better.