The items at the lowest level display

and

to their right. The items at the lowest level in the column area display

and

below the item captions. You can show or hide details for a specific item by clicking

or

.

You can display detail data only if it is available in the source data and the designer of the PivotTable list has not restricted access to it in the browser. For example, OLAP databases often provide only summary data rather than detail data.
Automatically showing or hiding all details
By default, detail data is not initially displayed in the browser. But you can change the setting to automatically display detail data for all items if you prefer.

Displaying lower-level items
When the row or column area has more than one field, higher-level items will display expand indicators (

and

boxes) to their left. Clicking the expand indicators will show or hide the items in the next lower level. If the innermost field on the PivotTable list is not the lowest in the item hierarchy, clicking the expand indicator of the innermost field will automatically add the next lower level of items to the PivotTable list.
You can display lower-level data for an entire field, or you can display it on an item-by-item basis, expanding only the items you want to see. Items in the lowest level will not display expand indicators. For example, if Country and City fields are in the row area, the items in the Country field will display expand indicators like this: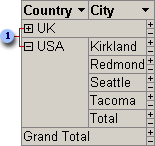 Expand indicators
Automatically showing or hiding all items
After loading the PivotTable list, you can change the setting so that all items are either expanded or collapsed by default.
Hiding expand indicators
After you have expanded the levels to the extent you want, you can hide all the expand indicators in the PivotTable list.
Showing or hiding items that have no data
By default, a PivotTable list does not display items for which the source data provides no values. For example, if you're showing sales for each month and there were no sales in April, the Month field would not have an April item. If you want to include items for all 12 months, with blank cells for the months with no sales, you can display items that have no data.