You change the layout by moving the fields to predefined drop areas within the PivotTable list.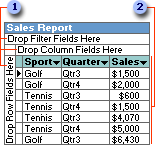 Drop areas

Detail area
After you move fields to the drop areas so that the drop area captions are covered up, you can still drag additional fields to the areas. You can also use the Add to button in the field list to add fields to different drop areas.
When you move a field to the row area, the unique items of data within the field are displayed down the rows of the PivotTable list. When you move a field to the column area, the unique items of data are displayed across the columns.
To view all of the detail records from the source data for the PivotTable list, you can move fields to the detail area. If you don't want to rearrange the fields or change the summarized data, you can view details alongside the summarized data.
Data fields provide the values to be summarized in the PivotTable list. When you move a field to the data area, the values from the field are summarized for the row and column field items.
A filter field is similar to a page field in a Microsoft Excel PivotTable report. Filter fields allow you to confine the view to a particular part of the available data. For example, when you move a Product field to the filter area, you can have the PivotTable list display a summary for one product at a time.
When a PivotTable list has multiple row and column fields, the fields that are closest to the summarized data are referred to as inner fields. The other fields are outer fields.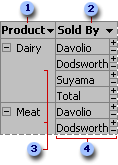 Outer row field

Inner row field

Outer field items

Items for the inner field are repeated for each item in the outer field.
The layout of a PivotTable list does not have to include all of the fields that are available from the source data. If more data is available, you can add fields to the PivotTable list layout. For example, if the PivotTable list summarizes sales revenue, and the source data also includes sales quantities, you might add the Quantity field as a data field to summarize both revenue and quantity of products sold. You can also remove fields from the PivotTable list layout that you no longer want to see.