Bulk Rename Utility allows you to change the attributes of files and folders once they have been renamed. This can be useful if you wish to flag all renamed files/folders as requiring archiving, or if you want to hide all the renamed files/folders. As well as making a file read-only, hidden etc., you can also clear the same flags.
Each of the main File Attribute settings is shown in the dialog window: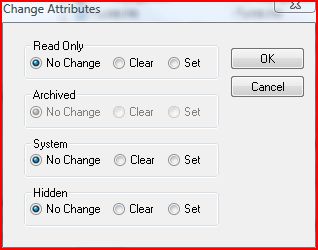 For each of the attributes you can choose to set the attribute, clear the attribute, or leave it unchanged. This gives you flexible control over how the files and folders will appear once they have been renamed.
If you are updating the file's attributes information, this will be reflected in the application main window, as the attribute field will be coloured
Note
If you set the Hidden or System attribute for a file, it will disappear from the main window upon renaming if you do not have Hidden or System options ticked in the Selections group (group 12).