| | |
| --- | --- |
| Automatic Delay (Bad-Mood Guard) | |
---
Have you ever wished that you had NOT sent an email? Maybe your response was "undiplomatic" because you were angry when replying.
This component of the SendGuard Outlook addon can delay the sending of your emails by a fixed number of minutes (set by you) so that you can get some time to change your mind.
Write and send your email as you normally would.
The delay can be automatically applied to outgoing emails or SendGuard will check with you before delaying an email.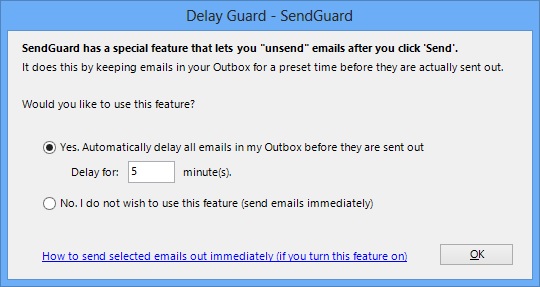 You can also easily setup SendGuard to either delay all emails, only emails to certain email addresses or don't delay emails to specific email addresses.
How to send selected emails out immediately when they have been delayed:

Go to your default Outbox folder and select an email which you want to send now:
Option 1: Right click on the selected email and click "Send Now".
Option 2: Open the email by double clicking on it. Tick the checkbox on the ribbon called "Send Now" under the SendGuard group and click "Send" on the email.
Settings for Delay Guard can be changed from the Settings Screen.
How to change Settings?
---
Copyright © 2014

Standss (South Pacific) Limited.
All rights reserved.

Didn't find what you were looking for or having suggestions?
We want to know. Please contact us to help us serve you better.