| | |
| --- | --- |
| Send Account Guard | |
---
Do you have more than one email account setup in Outlook? Using the wrong email account to send an email can make you look unprofessional and cost your business. Our Outlook addon lets you set a default email account for each person you communicate with so that you always use the correct email account.
Write and send your email as you normally would.
If SendGuard does not recognize the email address of the person you are writing to, it will let you assign a default email account to it.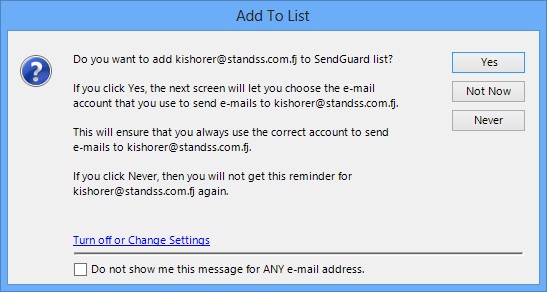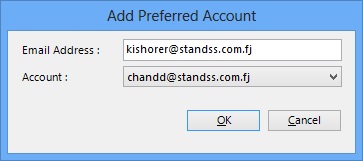 The next time you try and send an email to that person using the wrong account, SendGuard will automatically warn you and let you send using the correct account at the click of a button.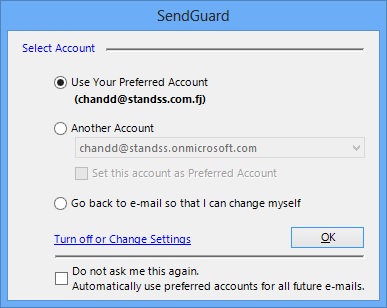 You can either choose to Use Your Preferred Account, or choose another account from the account list, or select the option to Go back to e-mail option and click OK.
Adding/Editing/Deleting Preferred Accounts
The preferred sending account (for each person you communicate with) is stored in a list. SendGuard automatically asks you to add items to this list as you send out emails.
You can also maintain this list from the Tools menu
Start Outlook and go to your Inbox.
On the menu, click Tools > Standss > SendGuard.
Click Send Account (Preferred) List to display the Accounts screen.
For Outlook 2010 and 2013:
Click on the "Standss Outlook Addins" Tab
On the "SendGuard" section > click Send Account (Preferred) List to display the Accounts screen.
Settings for Account Guard can be changed from the Settings Screen.
How to change Settings?
---
Copyright © 2014

Standss (South Pacific) Limited.
All rights reserved.

Didn't find what you were looking for or having suggestions?
We want to know. Please contact us to help us serve you better.