| | |
| --- | --- |
| Attachment Guard | |
---
Have you ever forgotten to attach a file to an email before sending it out? This is really annoying for both senders & receivers. It makes the sender look unprofessional and wastes time for both parties.
Write and send your email as you normally would.
This Outlook add-in scans your email after you press send and warns you if you used words that indicate there should be an attachment, but did not attach a file.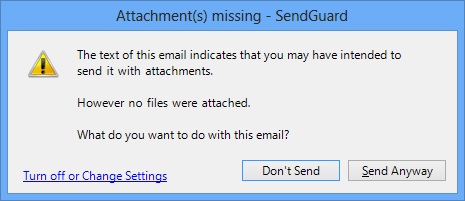 If you had meant to attach a file to your email, then click on "Don't Send". Clicking on "Don't Send" button will take you back to the email compose screen where you can edit your email and attach the file you intended to send.
However, if you wanted to send the email without any attachments, then click "Send Anyway".
The Attachment Guard checks your email for certain keywords to see if you intended to attach a file. You can change the keywords from the settings screen.
---
Copyright © 2014

Standss (South Pacific) Limited.
All rights reserved.

Didn't find what you were looking for or having suggestions?
We want to know. Please contact us to help us serve you better.