Posting Changes

 Adding Changes  

 Change by Example
Start the posting process by clicking Post, located in the lower right corner of the Change List window. Once the Post button is clicked you will see the following Warnings:

If Cost Center Overrides option has been setup in payroll, the above message box will appear. If you proceed to post the change, you have to ensure that the account code that you are going to change is not the overriding account. Please read the section Cost Center Overrides in this help file.

It is always important to ensure that your data is backed up prior to posting the changes. Then, if you are prepared to post the changes, click on the Yes button. The posting will proceed and the following progress window will appear.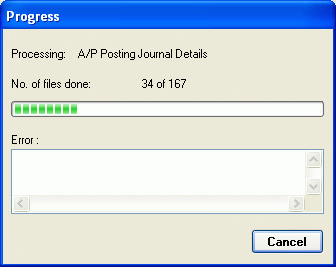 When the posting has completed successfully, you are ready to print the Audit Log.
Canceling a Posting
You can cancel a posting at any time by choosing Cancel. Once chosen, the following confirmation message is displayed.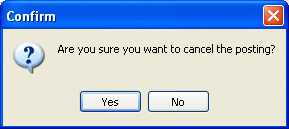 Select Yes to cancel the posting or choose No to continue the posting.
NOTE  Canceling a posting in mid-process means that some change list entries have been completed while others have not. This poses a significant data integrity problem. We strongly advise you to restore the company data before beginning any other operations.
Errors during Posting
If errors occur, print the Error Log and restore your backup of the company data. After reviewing the errors, make the appropriate corrections and redo the posting. It is REQUIRED that the Error Log be purged from the system prior to any re-posting of the Change List.
Warning after Posting
Some adjustments or checking need to be done if there is message inside the Warning Log. Review the Warning Log and make the appropriate adjustment.