Install Software Dialogs
The following dialogs are used for the install software process:
WHQL Warning Dialog
This dialog appears if the component is an early release and has not reached final WHQL certification.

To continue, select Yes.  You can use Intel's Download Center later to update components after they finalize their WHQL certification.
Autologon Dialog
The following dialog appears if a reboot is required and the user has not setup any automatic logon options.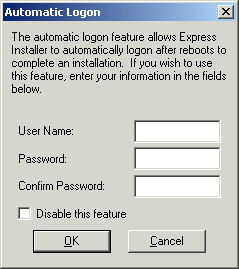 Autologon lets a user enter a specific user ID and password (when the Enable Autologon checkbox is checked in the Options screen).  This action permits continuous unattended installation when reboots are required.  Note that user name and password are only temporarily stored on the system during the installation process.
License Dialog
After the user clicks the Install Now button, a license agreement must be accepted: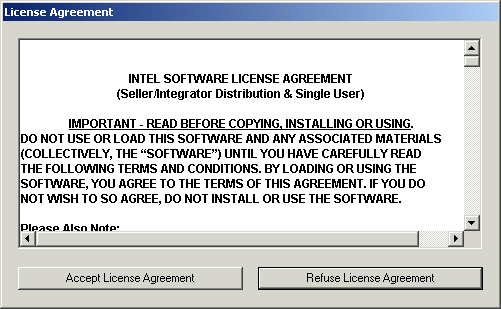 Installation Progress Dialog
The Installation Progress dialog box then appears and describes the progress of each component installation.  The Cancel button provides a way to stop component installation at any time.
NOTE: If your system has other applications running, close those applications before beginning an installation to prevent loss of unsaved data or interference with any required system reboots.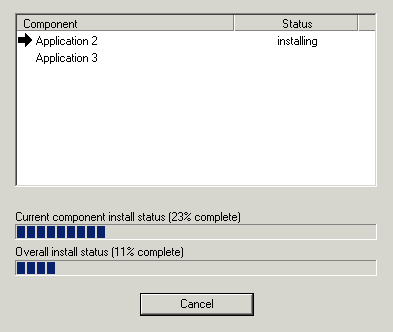 The above shows a sample installation progress screen. Appearance will vary depending on specific choices made and the system's progress during installation.
Graphic symbols in the installation progress dialog include:
The word Installing,  appears under Status during an ongoing installation.

   A black checkmark image indicates a successful component installation.

   A right-arrow image shows that a component installation has started.

   A white X on a red background image warns that a software component installation failed.

   A yellow question mark indicates an unknown installation state at this time.