Installation and Upgrade
A single installation program is used for both installing and upgrading the LANSA Client software. To upgrade an existing LANSA Client installation, simply run the installation procedure.
When you install or upgrade LANSA Client, a version of LANSA Open is automatically installed.
To begin an installation or upgrade, run client13.exe which is available for download from http://www.lansa.com.
The following dialog will appear: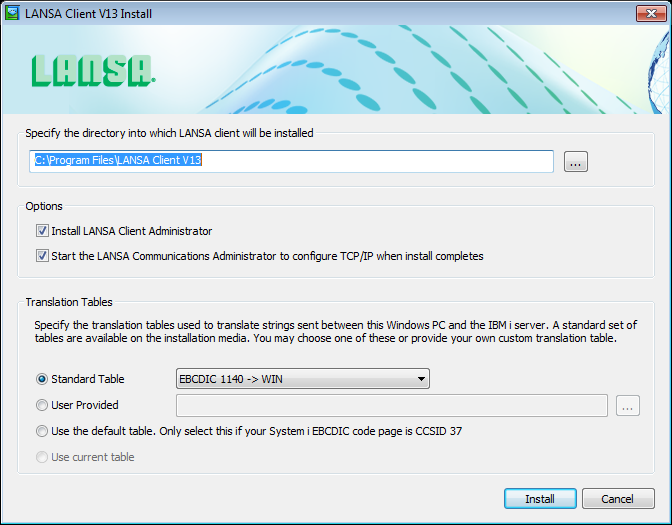 Here you will find all the options and settings necessary to install LANSA Client, including:
The directory where Client is to be installed
Whether the LANSA Client Administrator is to be installed along with LANSA Client.
Whether to start the LANSA Communications Administrator when the install has finished.
The translation table to install
When you're happy with these settings, click the Install button. A new window will open showing you the progress of the installation.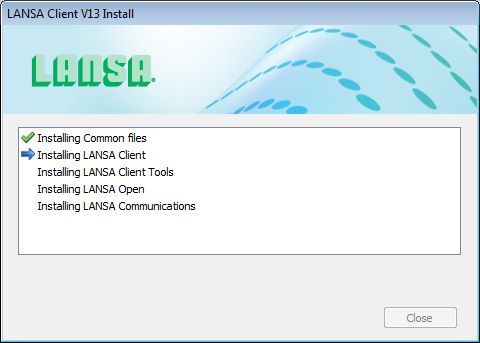 If you already have LANSA Client installed on your system, the installer can be used to upgrade to the latest version. Once you have the latest version of LANSA Client installed, you will not be able to modify the location of Client or to choose whether to install the Client Administrator, however the other options may be changed if needed.