Prior to installation, please uninstall any existing FTDI drivers from the target PC using the Add/Remove Programs utility in the Windows control Panel. MProg uses FTDI's D2XX drivers, the current versions of which can be downloaded free of charge from the
Drivers page
of the
FTDI website
. A link to the D2XX drivers page is included in the MProg installation directory.


The latest verison of MProg can be downloaded from the
Utilities page
of the
FTDI website
in a zipped setup executable. Extract the file, run the setup executable file and the following screen should appear:

   



Click Next and the installation program will prompt you to select the language you want to use for the rest of the setup process. The default value is English.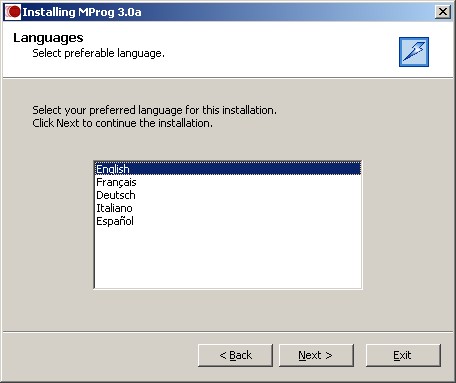 Clicking Next displays the license agreement. Read the license agreement and if you agree, check the box next to "I agree with the above terms and conditions" and click next to proceed with the installation. If you do not agree, the installation process will not continue.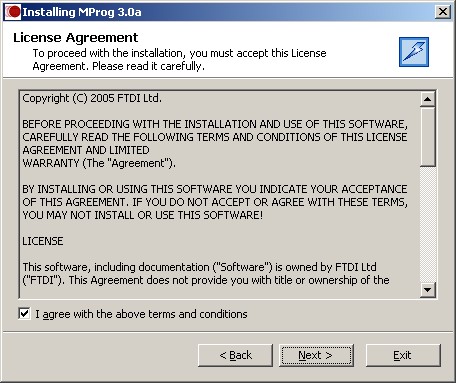 The next screen prompts the user for a location to install MProg to. The default location is "C:\Program Files\MProg" with the MProg version number. Once a location has been selected, click Next to commence installation.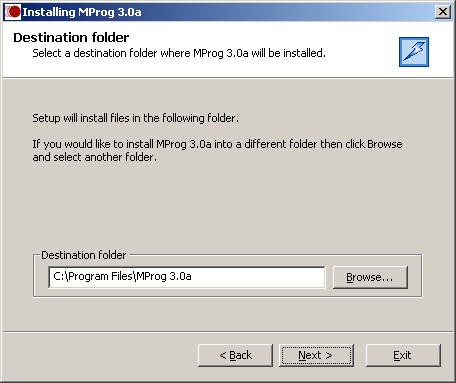 Clicking Next displays a screeen which allows the user to select if they would like a desktop shortcut created. If so, check the box and click OK.

   



Clicking Next installs MProg and copies the necessary files.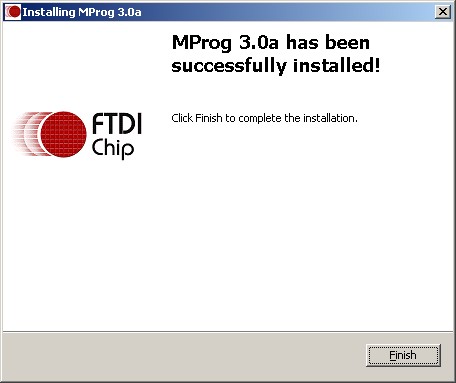 This completes the installation of MProg. To start MProg, either follow the desktop shortcut or locate MProg in the Start menu.


Please note that MProg requires D2XX drivers to be installed before devices can be programmed. See
Installing D2XX Drivers
for details of driver installation.