Menu: 
Start menu (Windows)

Programs

Autodesk

AutoCAD

Reference Manager
Provides two panes for listing referenced files in selected drawings and modifying saved reference paths without opening the drawings in AutoCAD.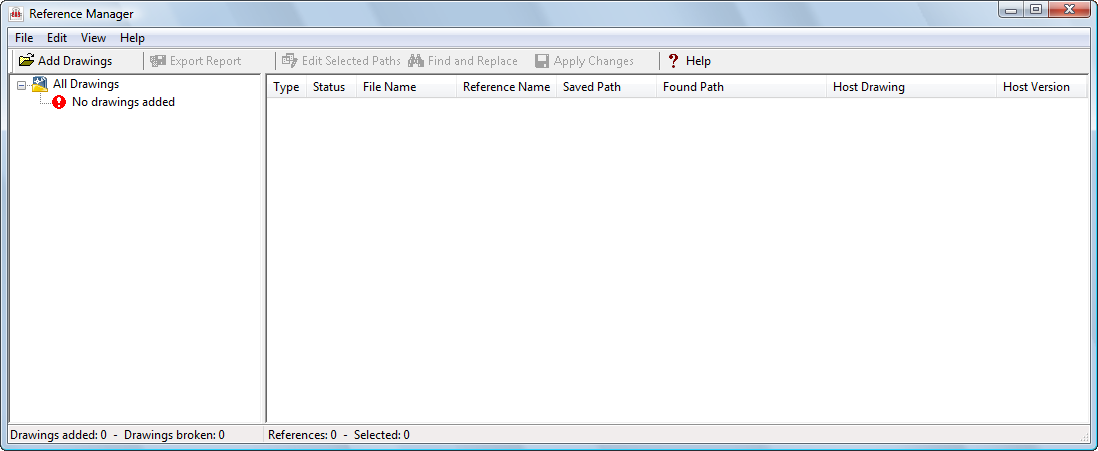 Displays a pane on the left with a tree view of drawings and the file references saved in them. You add drawing files to the tree view to make the file reference paths that are saved in them available for editing. The information in the tree view can be listed in two styles: List by Drawing or List by Reference Type.
Displays a list of drawings added to the tree view. Each drawing node can be expanded to display several types of file reference. Each type of file reference can also be expanded to display the references of that type. Drawings with xrefs may contain several nesting levels of references. If one or more references in a drawing cannot be located, the drawing icon is broken diagonally. If the missing reference is an xref, the icon for the xref displays with a red exclamation point (!) in it.
Displays a pane on the right with the file references from the item selected in the tree view. If All Drawings or By Reference is selected in the tree view, all references are displayed in the Reference list. Information about each reference is displayed under several columns.