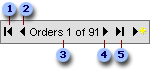 First record

Previous record

Record source and number

Next record

Last record
Note  If you don't see the record navigation toolbar on your page, it means one of the following:
All the records are displayed on the page, so the navigation buttons are not necessary.
The designer of the page has customized the toolbar. Look for custom instructions on how to use the page, or contact the designer.