The project overview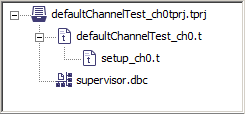 The project overview panel is situated to the right of the editor. This panel provides a schematic overview of the project file tree. Everytime you the project, the .t files are parsed, and any included files are added to file tree.
Right clicking in the panel brings up a menu which lets you Add or Remove Databases and access the Project Options. If you right click on a file in the tree, you are also given the option to Open the file for editing. Program files (*.t) are opened in the TRX editor, whereas databases *.dbc are opened in the external Kvaser Database Editor, provided that the path to dbe.exe has been set up in the Preferences.
---
Related topics
Project options
The code editor