Changing the Program Settings
   To change the default program settings, click the Settings button on the Menu Panel.
The General tab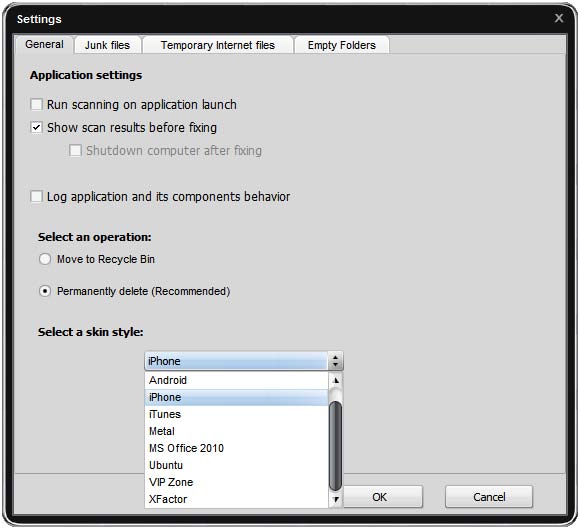 Application settings
Run scanning on application launch - use this option to perform the scanning automatically each time S4B Disk Cleaner is loaded.
Show scan results before fixing - use this option to avoid the auto fixing of the found problems and see the results of scanning to have the opportunity to choose which problems exactly should be fixed.
Shutdown computer after fixing - use this option to shutdown PC after fixing will be completed.
Log application and its components behavior - use this option to journalize the S4B Disk Cleaner internal mechanism behavior including the work of its components. Sending such reports to us helps make the future releases of S4B Disk Cleaner even much better.
Select an operation - use this option to choose what should be done with the found temporary internet/junk files, broken shortcuts, file duplicates:
Move to Recycle Bin
Permanently delete
Select a skin style - use this option to choose S4B Disk Cleaner skin style.