| | |
| --- | --- |
| API Reference | OSGeo FDO Provider for MySQL |
FdoRdbmsOvPropertyMappingConcrete Class Reference
#include <RdbmsOvPropertyMappingConcrete.h>
Inherits FdoRdbmsOvPropertyMappingRelation.
Inherited by FdoMySQLOvPropertyMappingConcrete, FdoPostGISOvPropertyMappingConcrete, and FdoSqlServerOvPropertyMappingConcrete.
Inheritance diagram for FdoRdbmsOvPropertyMappingConcrete: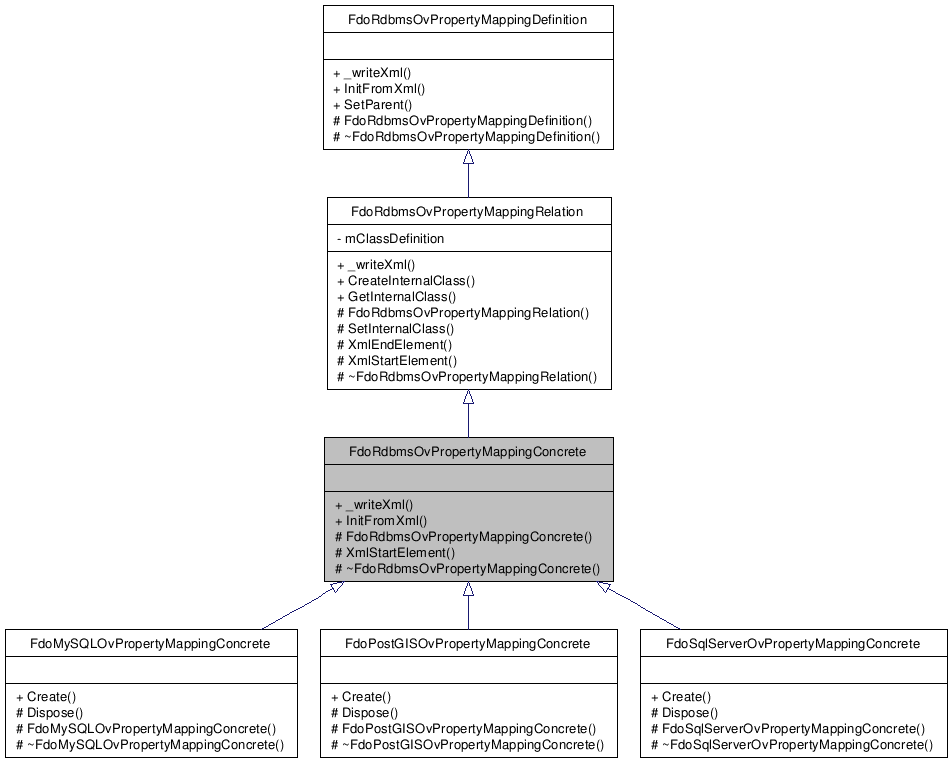 [legend]
List of all members.
---
Detailed Description
Abstract class defining the physical schema overrides for the Concrete type object property mapping. Under the Concrete mapping type, each object property is kept in its own table. /summary>.
Definition at line 33 of file RdbmsOvPropertyMappingConcrete.h.
Public Member Functions

virtual FDORDBMS_OV_API void 
_writeXml (FdoXmlWriter *xmlWriter, const FdoXmlFlags *flags)
virtual FDORDBMS_OV_API void 
InitFromXml (FdoXmlSaxContext *pContext, FdoXmlAttributeCollection *attrs)



Protected Member Functions

FDORDBMS_OV_API 
FdoRdbmsOvPropertyMappingConcrete ()
virtual FDORDBMS_OV_API FdoXmlSaxHandler * 
XmlStartElement (FdoXmlSaxContext *context, FdoString *uri, FdoString *name, FdoString *qname, FdoXmlAttributeCollection *atts)
virtual FDORDBMS_OV_API 
~FdoRdbmsOvPropertyMappingConcrete ()
---
The documentation for this class was generated from the following file:
---