Using Serial/IP with a Proxy Server
Serial/IP supports TCP network connections that are made through a proxy server.
The Serial/IP Redirector supports SOCKS v5, SOCKS v4, and HTTPS.  It is compatible with Microsoft ISA (for the SOCKS protocol only), Apache on Linux and Windows, and Squid.
If configuring to use Serial/IP with a proxy server, then in the Serial/IP Control Panel, click Advanced.  Click the Proxy Server tab, and select the Use a Proxy Server checkbox.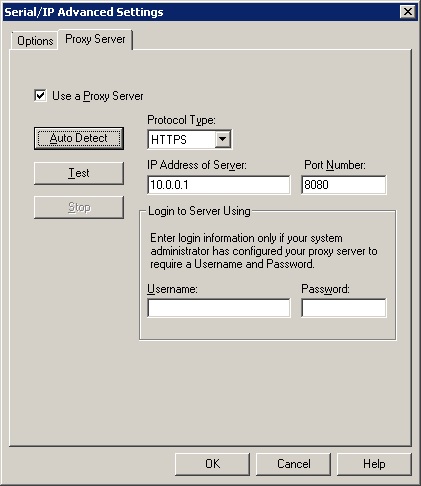 The Proxy Server tab of Serial/IP Advanced Settings window
If the proxy server requires a login, then type the credentials in the Username and Password fields.  The Protocol Type, IP Address, and Port Number are required.  When not using the Auto Detect feature, values must be entered in these fields.
To locate the proxy server and detect the settings, select the Auto Detect button.  If the automatic detection fails, then type in values for Protocol Type, IP Address, and Port Number.  The value of IP Address can be entered as a hostname.
Click Test to use the settings to contact the proxy server, and then click OK to record the settings.
If operation with a proxy server is not working as expected, then use the Test command.  This will conduct additional checks that can not be readily performed otherwise.  The Auto Detect and Test operations will typically take less than 10 seconds.  If either of these operations appear to be hung, then use the Stop button to terminate them.
© 2016 Tactical Software LLC