Previous
Top
Next
---
By double-clicking on an item in the control tree a line plot will appear, including all scores for the item and its contents. E.g. double-click on an assessor will include all the replicates for this assessor since replicates is a lower level to assessors.
The toolbar at the bottom of plots gives the possibility to print, save, zoom and panorate axes the figure. Also summary, raw data and numerical results can be accessed.
Summary is a list of Assessors, Samples, Replicates and Attributes on which the analysis is performed. If anything unchecked, it will not be included in the summary and the analysis.
Raw data covers like the summary only the Assessor, Samples, Replicates and Attributes that are enabled for analysis. Furthermore, the attribute values are included and arranged as a spreadsheet.
Numerical Results presents the results of the analysis and is dependent on the plot type. For instance for the
Line Plots
the average, minimum, maximum and std. deviation for each attribute are displayed.
Example: Correlation Plot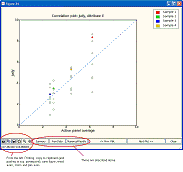 Note: In Tucker-1 and consensus plots there are additional buttons on the figure, which controls the number of principal components (PC), and their association with x- and y-axes.