Program Interface
PC Win Booster interface is quite simple to use and lets the user perform all the actions with a few mouse clicks. The program Main Window looks the following way: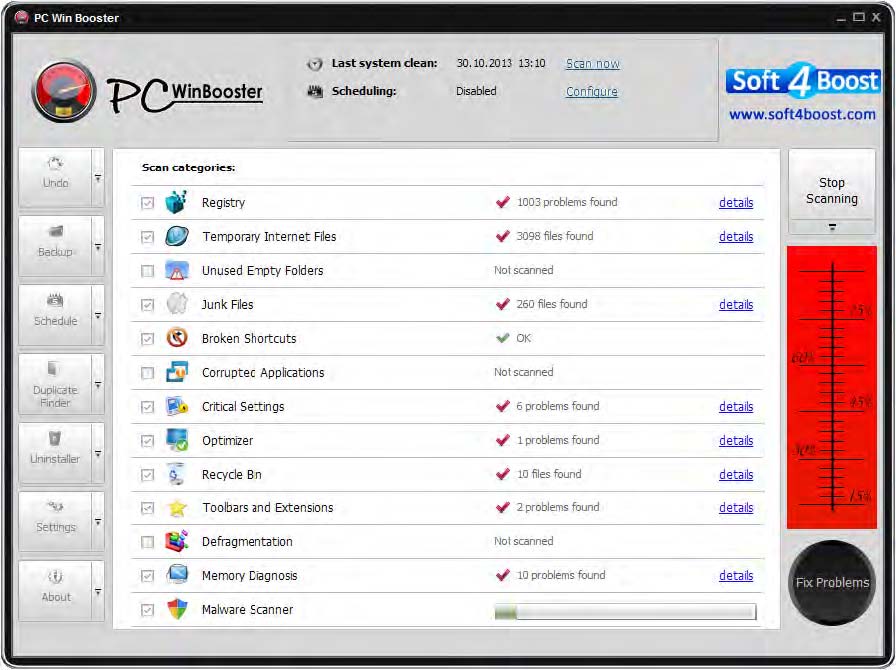 Undo - Use this button to revert the registry to the state it was in before last cleans.
Backup - Use this button to create both registry and system backups to restore from them later.
Shedule - Use this button to create a cleanup schedule so that the program could scan and fix your system automatically at the appointed time.
Duplicate Finder - Use this button to open the Duplicate Finder window to search file duplicates.
Uninstaller - Use this button to open the Uninstaller window to remove installing programs.
Settings - Use this button to open the Settings window to change the program settings.
About - Use this button to open the About the Program window displaying the information on the program current version and the end-user license agreement.
The Status Area lets the user see date and time when the last scanning and fixing were made and know whether scheduling is enabled or not.
There is display of the current system state in the right panel during the scan.
The Category/Result Area initially contains the list of available categories to scan within. It also displays the found problems in details if the scanning has been performed.