Using Access IBM Quick Launch
Use the Access IBM Quick Launch functionality to store your favorite Access IBM links. Access IBM Quick Launch enables you to quickly navigate to frequently used IBM Web sites, application launches, and help topics.
Editing Quick Launches
You can edit, add to, and delete the default quick launches by selecting Edit Quick Launches when you click on Quick Launch. When you click Edit Quick Launches, the following screen is displayed: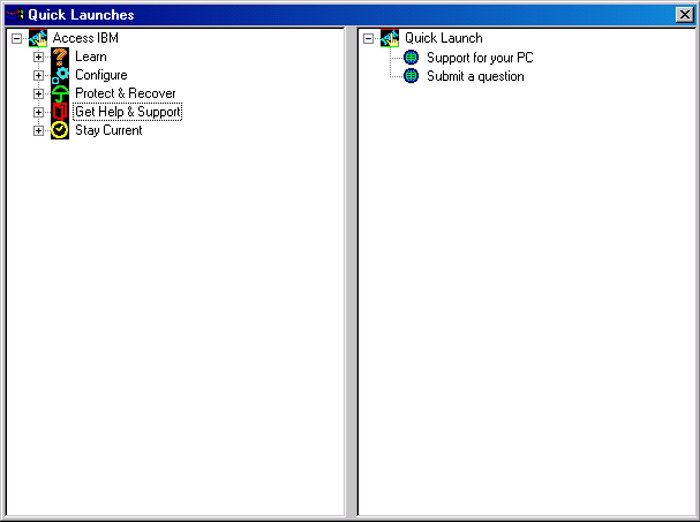 Using this screen, you can drag and drop any help topic, application launch, or Web link from the Access IBM tree structure in the left pane to the Quick Launch list in the right pane. You can also double-click the item in the left pane and it will be added to the bottom of the list in the right pane or right-click the item and choose Add to Quick Launch list. Delete Quick Launches by right-clicking the launch you want removed and selecting Delete. Once you have added a selection to the Quick Launch list, it will be available to you later when you click Quick Launch from the main Access IBM screen. The changes that you make to the Quick Launch list are immediately available to you. Once you make a change and exit the edit screen, your selections are displayed in the Quick Launch list.
A-0273-00-00-eng